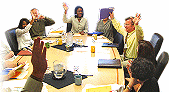 Last week I saw yet another workbook published by yet another respected Governance group, providing yet another list of principles for "Good Governance."
And yet again, of its 33 chapters, one chapter is devoted to "Mission and Goals." ONE CHAPTER!
The rest of the book is a chapter-by-chapter list of what we could all recite as the purported "Good Governance Checklist."  Here's just a smattering of topics that received entire chapters.
• Meetings
• Conflicts of Interest
• Term Limits
• Financial Records
• Board Size
• Expense Policies
• CEO Evaluation
• Donor Intent and Gift Acceptance
Is that really good governance? Or is it instead a 32 chapter list describing the mechanical functions of being a board?
Is there anything in that list about leading and guiding the organization towards the community's highest aspirations for what is possible? And isn't that what the spirit of engaged leadership is about at its essence?
When will governance experts start teaching that? When will they acknowledge that replacing high-level, engaged leadership with a risk management checklist has done nothing but create disengaged, micromanaging, dysfunctional, scared, bored boards?
The real power of governance is to govern for what is possible – governing to make a huge, visionary, significant difference in our communities.
We can govern by developing plans for making that significant community difference.
We can govern by spending time at the board table discussing the community conditions we intend to change.
We can govern by measuring to see whether our actions are indeed making a difference in our community.
And if we don't know how to do that measurement, we can govern by exploring and discussing and discovering the answer.
Imagine board meetings where that is how your board governs. Imagine your board holding itself first and foremost accountable for what is possible for your community, and then doing their oversight work within that huge, powerful context.
It is time to hand back to boards the possibilities that drew them to the board in the first place. It is time to teach them how to govern for those possibilities – to hold themselves accountable for those possibilities.
Because those possibilities embody the highest potential for governance – to light the way to a better world.
To build a board around the issues that matter the most, let our Board Recruitment Manual be your guide!