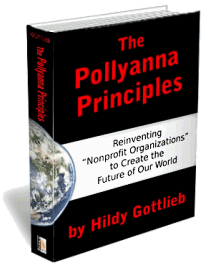 The following is excerpted from The Pollyanna Principles: Reinventing 'Nonprofit Organizations' to Create the Future of Our World. To read these chapters from the beginning, head here. The Pollyanna Principles will be officially released on January 25th.
**********************************
Chapter 2: The Path We've Trod (continued)
Independence from Natural Forces
The path we are walking began when life was slow, when we relied upon the seasons for our survival, and we had to plan for that survival based on what the earth dictated.
For the past few centuries, however, our technologies have conquered the seasons. We no longer must rely on the earth's rhythms for our material needs to be met. Multiple generations have now grown up with the assumption that technology can provide whatever humankind might need or want.
That expectation has become another part of the history and culture that informs our view of the present and the future.
We can do anything, we can do it fast, and we have become impatient with any effort that fails to do so.
In 1961, when John F. Kennedy said he would put a man on the moon in ten years, the world was impressed with his audacity and his vision. The world was more impressed when it took not ten years, but eight.
These days, less than 50 years later, we think of eight or ten years as a ridiculously long time. We want a SHORT war, a FAST solution, a QUICK and SPEEDY economic recovery. In the words of Jim Morrison, "We want the world, and we want it NOW!"
But we are still part of this planet. Our intentions and our technology cannot turn summer into winter, cannot make a human learn lessons any faster than he/she is going to learn them, or create immediate human understanding between long-term enemies.
Some changes, regardless of our intentions or our technology, simply take time. Because that goes directly counter to the accelerated expectations we have learned to see as "the norm," it is not unusual to hear the following when it comes to the work community organizations are trying to do:
"We can only fund what we can accomplish and measure quickly. We therefore have neither the luxury to consider, nor the dollars to implement programs for such long-term results. We must keep our focus on what we can accomplish and measure in the short term."
The Culture of Can't
The path of our history is certainly filled with contradiction. We have thousands of years of training in what is not possible, and then hundreds of years of training that says, "We can have anything!"
Much of that contradiction relates to skepticism about anything we cannot see or feel. We know we can have material comforts because we can see them and use them.
But the intangible comforts – peace, compassion, joy – are another story entirely. If I do not already have the material comforts of a house or an ice cream cone, I still know they exist. But a global spirit of living together harmoniously? Our lack of experience with such a life tells us it is not likely to happen.
Our culture therefore believes that physical change is boundless – a Culture of Possibility. That same culture, however, reinforces that global spiritual / social change is impossible – a Culture of Can't.
The Culture of Can't is the culture that says, "get real!" It is the culture that gives the litany of seemingly reasonable reasons why something cannot be done. Coming as it does from the thousands of years of "reality" that have come before us, the Culture of Can't pervades our world view.
Logically, we know that much of what we assume to be impossible is merely unproven. Columbus proved the world was not flat. The Wright Brothers proved people could indeed fly. The Apollo missions proved we could not only go to the moon, but play golf there!
We know in our material world that what is unproven is not impossible. It is, in fact, where all our potential lies.
But we have not yet translated that to the world of the intangible.
We have direct experience with making payroll or feeding one person at a time.
We have no experience, however, with living joyfully in peace with everyone else on the planet. We have no experience with living in a community that is healthy in all ways – materially, intellectually, spiritually.
Because such a world is not part of our past or our present, we assume it will not be part of our future.
Visionaries and the Culture of Can't
Because we see a compassionate, healthy world as highly unlikely if not downright impossible, our culture and our history do not show much regard for those who assert the unwavering belief that such a condition is not only possible, but likely.
At best, we discount such individuals as unrealistic naive souls with their heads-in-the-clouds. Bleeding hearts. We mock them as Utopians who tilt at windmills. We call them Pollyannas.
At worst, we crucify them, assassinate them. (See Jesus. See Gandhi. See Martin Luther King.)
Mostly, though, we patronize and pacify them, and then get on with "dealing with reality" as defined by the path of our history. There has always been war, poverty, hatred, abuse. To imagine a world that is significantly different from that may be a nice dream, but it is not something we would waste time discussing as an attainable goal.
This is the anti-visionary Culture of Can't that affects the boards of Community Benefit Organizations every day.
"Yes, it would be nice if we could eliminate poverty. But let's get real. There will always be poor people, and we could go broke as an organization if we try to help everyone. Our job is to do what we can for those people who walk through our doors, and to make sure we can pay the bills. To consider anything else is simply unrealistic. And we can't waste our donors' dollars on 'unrealistic.'"
While the visionary tries to get the group to see BEYOND what is right in front of them – beyond the payroll and the rent, to lead the group to what they can imagine – the Culture of Can't is the safe bet. The cause of creating an equitable society is considered the cause of the dreamer; the cause of providing a meal at a time to those of limited means is considered noble. The cause of creating true peace is considered childish; the cause of war, while admittedly painful, still far more "adult and realistic."
As a result, year after year, despite frustrations of visionary board members and visionary staff, leaders of Community Benefit Organizations create the future in the exact image of the past and present they so badly want to change.
**********************************
For the next chapter, please click here.
Over the next few weeks, you can preview the whole first section of The Pollyanna Principles here at Creating the Future. If you want to be notified when the next installment is up, let us know. And please, link here to learn more about the book, and to review the table of contents (as well as all 6 of the Pollyanna Principles).