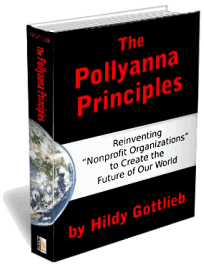 When I first realized The Pollyanna Principles was becoming a reality on paper and not just in my head, I promised to publish the first few chapters here at Creating the Future. Now that the book will be out in the next week or so, I am wondering – how exactly will I do that? This is the first book I have written since starting this blog, so this is all new to me!
Because this blog doesn't belong to me near as much as it belongs to the people who read it, I thought I would just ask you. Here's what I'm wondering:
1) How much of the book do you want to see at one time? The equivalent of 2-3 pages of a book? More? Less?
2) Would you prefer that the blog halt its normal posts, posting only those chapters for a week or so, then resuming "regular programming"? Or would you prefer that I break things up, posting a bit of the book, a bit of my normal ramblings, a bit more of the book, etc.?
3) What else? What am I missing re: how you want to read these first chapters?
4) If you have seen other authors successfully publish their first chapters online, would you point me to those good examples?
We are so excited about all of this – not just the publication of The Pollyanna Principles, but our more important goal this year: Having 100 Learning Communities in communities across the continent, supporting each other in putting The Pollyanna Principles into practice. (If you're interested in having your community be one of those, send me a note here.) This is more fun and excitement than I ever conceived one could have in their "day job" and we are so pleased you all are part of the journey!
Thanks for any and all suggestions, gang. I look forward to introducing you to The Pollyanna Principles right here.