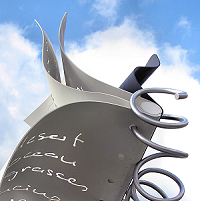 (Part 8: Community-Driven Tour 2008. To read these posts from the beginning of this 2+ month tour, click here.)
From our first visit to Lincoln, Nebraska in April of 2006, it was love at first sight. And everyone we tell that to thinks we are insane.
If we were talking about somewhere romantic like San Francisco or Manhattan, they would understand. But falling in love with Lincoln, Nebraska?
Is it the weather? Nebraskans proudly inform visitors, "If you don't like the weather, wait an hour – it will change." During the single week we spent in April 2006, we experienced an ice storm, a 70 degree shirt-sleeve day, torrential rains and a tornado warning – all in one week. While our visit this past week was not as extreme – a 60 degree day followed by a 15 degree night – the weather is not why we love Lincoln.
Is it the food? Man do we love Lincoln's food! Our host for this trip was Rick Carter, Executive Director of Lincoln's Human Services Federation, Community-Driven Institute Adviser and joyful friend.  Rick ensured we only ate at locally owned restaurants, a mandate he and his wife Jessica (and Super Baby Eloise) live by in their daily lives. We had phenomenal Indian Food at The Oven (an eggplant dish to die for!) and we loved Pho Nguyenn so much, we went back for their authentic Vietnamese food a second time (try the Bun with tofu and mushrooms – heaven!). And while Lincoln's restaurants rival cities twice its size, that is not why we love Lincoln.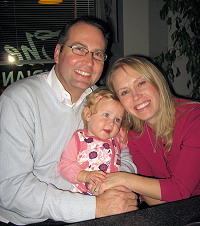 Is our love for Lincoln due to the culture and feel of the downtown / capitol area? Yes, we love the area around the UNL campus, and yes, we spend as much time as possible in the restored Haymarket District with its fabulous restaurants and stores. And yes, Rick treated us to a tour of the art deco marvels of the Nebraska State Capitol building (a building about which Lincoln Food Bank executive director Scott Young insists, "It should be a misdemeanor for people who live in Lincoln not to go inside that building and look around once a year.").
And even more, we wish we could attend every one of the incredible lectures hosted at UNL's Lied Performance Center (Former Kennedy speechwriter Ted Sorenson was the attraction while we were there this time – the rumored author of the immortal words, "Ask not what your country can do for you…"). Their surprisingly rich cultural environment certainly makes us want to stay and soak it all in, but that, too, is not why we love Lincoln.
Perhaps it is the natural environment? Unlike the drama of the weather, the subtlety of the landscape in Lincoln continually blows us away. Spring Creek Prairie Audubon Center is just one of the local prairie preserves, nurturing these fragile lands back to their natural state. Even in its winter starkness, the sun pouring through the golden grasses was enough to make me lay down on my back, staring at the blue sky through a sea of tufts. A white-tailed deer leaped into the air, flushing out a pheasant in its path. What magic!
It could be all of that. But it's not.
The reason we have fallen in love with Lincoln is the sense that Lincoln is ready to leap like that deer, reaching for the next level of what is possible for the community.
During this trip, in conversation after conversation with community leaders, the questions circled back to this:  What would Lincoln's Community Benefit Sector look like if all systems were aimed at community change? And what would that take?
How could you not fall in love with a place where community leaders are excited to discuss such questions!? And how could you not love a community where the answers included these:
• Everyone would be involved in the discussion – funders, consultants, service providers, elected officials, businesses, individual community members, government departments
• Everyone would be learning from each other, building on their own strengths and each others' strengths
• There would be tools / systems for measuring community change – meaningful indicators of long-term success
• There would be a sense of trust, a spirit of learning and reflection
• The context of the work would be the small picture within the larger picture, rather than solely the small picture
• There would be cross-pollination across different types of missions
• Community change would be a very present part of the dialogue
• Collaboration would not be seen as a superficial mechanism, but as a way of being
• Organizations would see themselves as catalysts for community change, and would know how to put that into practice
• There would be excitement and energy throughout the sector!
Over the course of our time in Lincoln, these themes crept into all our conversations.  How can we ensure our work is a model for the interconnectedness and strength-based approaches we want to reach for as a community?  How can we be sure to walk our talk? How can our efforts embody what it means to be the change we want to see?
And people wonder why we love Lincoln!
Among those who participated in many of these breathtaking discussions was our friend and colleague, Mari Lane Gewecke. Mari is the one who introduced us to Lincoln originally, and who connected the dots to make our first trip to Lincoln possible almost three years ago. During this current trip, Mari became an integral part of the Community-Driven work the Institute is doing. The ability to work so closely with friends like Rick and Mari has made this even more special.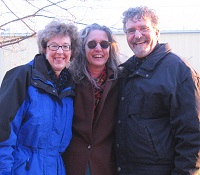 Topping off our visit was a great morning-full of workshops, attended by an enthusiastic group of 70 representatives of Lincoln's Community Benefit Organizations. From service providers to funders, and from arts organizations and human services to environmental and animal welfare groups – folks saw that they share a single vision for the future of Lincoln. They learned how to govern towards that vision, and how to engage the community in programs that embody that vision.
We have now packed the car, and have begun the journey home. It was on the way out of town that we stopped to spend a few hours at the Spring Creek Preserve. The woman at the Visitor's Center asked where we were from, and then asked what had brought us to Lincoln. When we told her we had done some workshops for community organizations, she came alive. "Two of our board members were at that workshop! They were telling the board about it just last night at our board meeting. They said it was the best workshop they had ever attended!"
What a way to wrap up our perfect week in Lincoln! This trip has been remarkable, in every single way, but Lincoln has been the cherry on the sundae.
From there, it is time to set the GPS to Tucson. After 2 ½ months, it is time to go home.