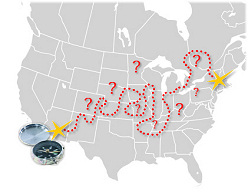 Well, it's been a month that we have been on the road with the Community-Driven Tour 2008. And we finally have a moment where I can begin to share what an adventure this has been and continues to be!
We are driving right now, heading west on I-90 from Ithaca, NY to Toronto. It is 7:30 – the sky is almost dark. We will likely arrive at our hotel around midnight, as we intend to stop to see Niagara Falls. Life is good.
It has been an amazing journey so far. It is far too much to share all in one post, so I will promise to be better about posting more often. It has not been easy to do so – there has been so much going on, every hour of every day. One thing is for certain, as we schlep our bags and files and computers from hotel to car, from car to hotel – we need Roadies!!!!
We started the trip on September 12. We drove from Tucson to Albuquerque, from Albuquerque to Colorado Springs, from Colorado Springs across the breadth of Kansas to St. Louis, from St. Louis to Grand Rapids, Michigan. We left surrounded by summer monsoon clouds. Four days later, we were surrounded by autumn in the midwest.
From there, it is hard to fathom all we have done, and all that has transpired.
I keynoted the annual Governance conference for the Dorothy Johnson Center for Philanthropy at Grand Valley State University.
We presented a workshop on Governing for What Matters in Danbury, Connecticut, for the Greater Danbury Nonprofit Resource Center and the United Way of Western Connnecticut.
We facilitated a Community Engagement Plan for the United Way's Stamford, Connecticut office, focused on Family Financial Stability.
We presented workshops titled Building Engaged Support for Your Mission in Kent (CT) and in Millerton, Albany and Ithaca (NY). In Nyack, NY, we presented two workshops – Building Engaged Support for Your Mission and Building an Energized Board.
In every community, we tell audiences that we left Tucson on September 12, and we will be home the last week of November.  And then we tell the assembled group that we are sharing one message as we travel from community to community across the U.S. and Canada, regardless of whether we are teaching governance or sustainability. That message is simple:
Creating visionary change in our communities is not only possible, it is practical and doable.
In the remainder of the workshops and keynotes, we show how practical it is to do that work – whether we are teaching boards to hold themselves accountable for creating visionary community change, or teaching  practical strategies for generating resources by linking arms rather than by competing.
In every community, audiences walk in skeptical. And in every community, they leave inspired, energized, excited to get back to work and begin making a more significant difference in their communities.
We are having a blast!
Add to that blast that it is autumn, and we are traveling in the most beautiful countryside, watching the leaves change. We have been through the most picturesque villages, driven along hours of winding roads filled with old barn after old barn. And we have had the privilege of spending 5 days in Ithaca, NY, where the Finger Lakes meet gorges and waterfalls, and there is something extraordinarily beautiful at every turn.
The highs of the work have been balanced, unfortunately, by the lows of – well – just life. Some of you know that Dimitri has been his dad's primary caregiver for the past five years, as his dad has become more and more infirmed. Just a few days after we arrived in Connecticut, Papou was hospitalized for the umpteenth time. Only this time, after almost a week, his body just gave out.
It has been difficult for Dimitri, knowing that after all this time, visiting Papou 3 – 4 times a week and often more, accompanying him to doctor's appointments, advocating on his behalf – it has been hard to know that in Papou's last hours, Dimitri was not with him.
The rest of Dimitri's family was there, however. And in the 24 hours before he passed, old friends from far away came to visit as well. Papou left this earth knowing that he was loved.
So it has been a mixed trip, for certain. The work has been incredible, as has the scenery. The ability to spend time with people we love and do not often get to see – oh that has been a treat! And yet it is all bittersweet, as Dimitri feels the absence of his dad, who had become so very very present in all our lives these past few years.
Tonight we are heading into Canada. We will visit with friends, and Dimitri will get to spend Thanksgiving weekend with his family, most of whom live in Toronto. This is where we were supposed to be, for certain – who could have known? We have workshops scheduled in Guelph and London, where we will get to spend time with friends both new and old. And then we are back on the road, to the city of Monroe, just south of Detroit, and the journey continues from there.
That's it for this post. I promise to share more about the work, the scenery, the visiting with friends and the rest of this incredible journey in the coming days and weeks. With one very glaring, important and saddening exception, this has been a more extraordinary month than even we could have imagined.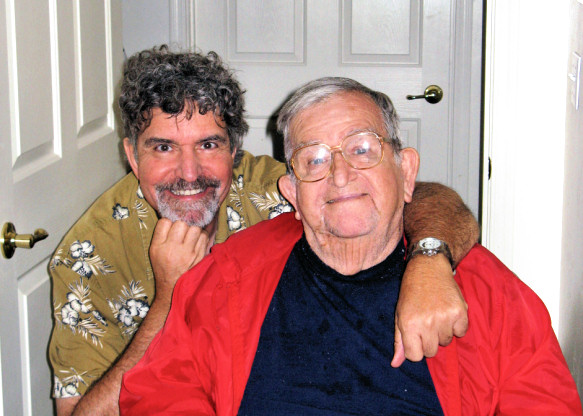 For those who have asked what they can do to support Dimitri and his family during this time, he has asked that you make a donation to the Southern Arizona Community Diaper Bank. There was not a week that went by, in Papou's last years, that Dimitri's family was not thankful that he could afford the incontinence supplies he needed. In his memory, we ask that you help the Diaper Bank help someone who is not as fortunate.
Interested in following the 2+ month Community-Driven Tour 2008?  Just follow the link!